About Local, REALTORS
International Real Estate Network
Local, REALTORS® uses client reviews, sales data and personal connections to match consumers with local real estate experts! Dedicated to enhancing the lives of our members, we invest into local neighborhoods by building connections with businesses, community leaders and local charities.
What are we doing here?
Headquartered in the sunshine state of beautiful California, our Corporate team is comprised of some of the leading Real Estate Brokers and Lending Professionals in the US. Founded by a past Board Member of one of the largest REALTOR® Associations in the country, Local, REALTORS® is an international Real Estate Network connecting Buyers, Sellers and Owners with Top Local Real Estate Experts.
With a Real Estate Agent network of more than 1 million real estate professionals from around the world, our team can assist in finding the local real estate expert that's right for you. We work with some of the Top Agents from companies like Coldwell Banker, Keller Williams, Century 21, The Local Realty and many more. We never sacrifice service for profits, so if we don't have a Local Expert in the area you're seeking, our Client Relations team will research and seek out the top local real estate expert in a community who can best assist you in your next purchase or sale.
What Does Local, Realtors® Provide?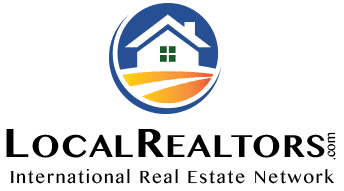 Our website system provides a home and real estate marketplace dedicated to helping property owners, buyers, sellers, renters, real estate agents, mortgage professionals, landlords and property managers find and share vital information about local real estate market conditions, homes, commercial real estate, mortgages, and home improvement.
The Local, REALTORS network includes LocalRealtors.com as well as FHA.condos, HomeBump™, Probate Council™, SeniorHomes.co, Short Sale Map™, Real Estate of America, Va.condos, VaHomeMap.com, ValueofProperties.com. Local, REALTORS® also offers a complete solution of training and software products and services to help real estate professionals serve their clients and grow their business, including the Certified Local Expert® designation and training program.
Local, Realtors® Referral Program
Rather than just connect you with Real Estate Agents in our own company,
we seek out and partner with the top Local Real Estate professionals around the world.
100% Satisfaction Guarantee
We assist in making sure you're represented properly no matter which agent or brokerage you sign with. When you find your Agent through our REALTOR® Match system, our dedicated support staff will act as your 3rd party support to ensure you have a smooth real estate transaction.
Why get matched?
Our Referral Partners go through an in-depth interview and screening process in order to be approved into our personal referral program. Our Real Estate Partners are constantly rated and reviewed by our customers in order to provide the best possible service.
Are you a Real Estate Pro?
Partner with our global network, free. There is no cost to join and our referral partners only pay upon successful closing. If you're a real estate professional and would like to join the Local, Realtors® referral program, you can apply through our Preferred Partner Application.
How much does it cost? It's Free! 
We would be happy to assist you in finding the perfect real estate agent.
Email us with the form below, or call us at (855) 766-7325.